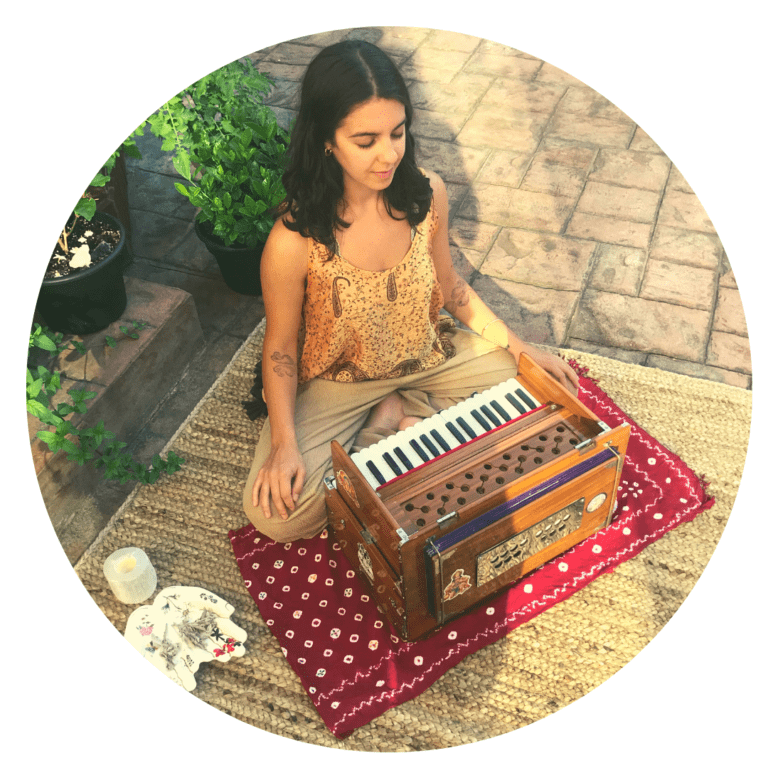 Welcome!
My name is Jaylyn Bernachi, and I am a full time Yoginī, writer,
herbalist, women's wellness mentor & teacher.
I was a natural born earth lover.
When I first found yoga in my adolescence, it was the Feminine approach that most intrigued me: the earth-honouring practices. Consciously connecting with our home felt completely natural and most nurturing to my spirit. 
Later, as I began consciously connecting with my womb world and her cycles, I suddenly remembered nature inside: the seasons + cycles of my body and womb.
 Nature was unfolding within me! And as I tuned toward this inner nature, yoga was no longer a 'practice' that I had to 'do' to 'arrive somewhere'– I was yoga, and it became an embodied remembrance.
All I had to do was listen.
With this remembrance I dove into the practices that joined my natural inner rhythm with the rhythms of life itself. This was a harmonious homecoming that connected my individual being to the greater cycles of life, the elements + the cosmos — the great beings.
This is, at heart, the wild reconnection that I serve to spark or fan within you.
It's important to mention that this sense of homecoming was born out of a profound disconnect from my body and my cycle, which led me to seek holistic healing in the first place. In my adolescence, body image issues, mental health issues and reoccurring menstrual cycle challenges spurred, creating an underlying sense of discontent (and sometimes intense physical pain) that followed me everywhere. Traditional hatha yoga practices certainly helped with my mental health, but I sensed that there was more to the picture. I didn't know it then, but an ancient way of being was calling to me; a sacred wildness as ancient as the earth herself. My blood seemed to remember it, and my soul yearned to unleash it. This is the call of the Deep Feminine…and if you're reading this, chances are you've heard it, too.
The call isn't always pleasant, but it's unmistakable.
Women are wildly powerful.
I've chosen to focus my services (see below) on our wellness at this time because I witness 2 powerful phenomena unfolding together now: many of us are hearing the call, and we are simultaneously seeing all of the ways we have been 'put asleep' to our truth, and the consequence of that disconnect. What we've been disconnected from is earth, and this manifests in countless different ways. Fortunately, so many of us are answering the call to come back home within our own bodies + upon the earth herself.
We are healing together.
I'd never pretend to have all of the answers; so much of life is made of mystery. But I do know many women can relate to my experiences and this fuels me to share my story. I dove deeply (and continue to dive deeply) into these subjects over several years (it's really been a life-long journey) and am so fortunate to have a 'back body' of amazing teachers + guides. My heart is here to help bring us home to our sacred wild selves and the innate wisdom of our bodies…
Now is the time, and there is a way.
For people with wombs, inner harmony is possible through a respectful acknowledgement of our inner nature, our womb world, and our relationship to the earth at large.
This is the foundation for our well-being + liberation on every level.
This is embodied, inner yoga (union). 
With the current state of our earth, there is a sense of urgency for us to remember our loving relationship to our outer environment. But we can perhaps most wisely begin with the inner one. We are being called to slow down and listen; to return to the roots of our being.
As we heal, the earth heals, and more life can thrive. 
The call of the Feminine is strong, and there is great potential for our healing – her healing – at this time. It will require the courage to make the choice to radically honour ourselves.
This is, for me, the most challenging aspect of my practice right now: to slow down + truly commit to my nourishment in a fast-paced culture; to remember the strength in softness. 
I share with you the practices, tools + rituals that have been my greatest boons. 
 Over my years of devoted yoga practice I have been blessed to cross paths with some of the most respected spiritual teachers of today: Sharon Gannon & David Life (co-founders of Jivamukti Yoga), Dr Uma Dinsmore-Tuli (author of Yoni Shakti & co-founder of the Yoga Nidra Network), and Krishna Das to name a few. I've had the blessed opportunity to spend hours both training with and immersing myself deeply in the teachings of these beautiful beings, and it is through their generosity that I am here, doing as I do.
I currently live in Ontario, Canada, where I offer holistic teachings to my communities online + offline, while co-creating the herbal e-shop Sun Powered Soap Co. I love to write, move and breathe in alignment with my menstrual cycle and be in communion with the plant world.
I offer you my humble heart and experience with the very sacred practices of yoga + Feminine spirituality. Living in alignment with the rhythm of life is at the core of all of my offerings. This is Divine Feminine power + presence, and I am in service to this energy as it lives through you, me and all beings.
Jai Mā!
▿  Certifications  ▿
Yoni Shakti Well Woman Yoga Therapy
Total Yoga Nidra Facilitator
300 hr Jivamukti Yoga teacher
Yin Yoga Teacher
Hatha Yoga teacher
BA in English Literature & Philosophy