"The extremely high sensitivity and chronic low moods led me to look inside myself for answers. Yoga Nidra provided me a sense of inner calm and completeness I felt I had been somehow 'missing.' It fills me up with something my body, mind, and spirit crave, being human as I am. The deep rest I receive is a gift I want and need to share." 
– Jaylyn 
Yoga Nidra (Yogic Sleep) is a powerful relaxation technique that provides you with the benefits of deep meditation and sleep, simultaneously.
In Yoga Nidra, you enter a state of restful consciousness that nourishes every dimension of who you are: your physical body, your subtle energy field, mind, emotions, and spirit.
This form of deep meditation can restore and reform the mind to the level of the subconscious. It's known to have profound effects on the health of the nervous system, and mental & emotional well-being.
It restores energy lost from lack of sleep, stress, overthinking, and generally overdoing it. Over time, Yoga Nidra can promote deep sleep, boost mood & energy levels, and enhance creativity!
I love Yoga Nidra because it's creative, nourishing, and anyone can do it. I think my favourite part about it is that it's a practice I can do no matter how I'm feeling, what mood I'm in, or what's going on in my life. It meets me exactly where I'm at and gives me that sense of inner peace and connection.
All you need is 20 minutes and a place to lie down, relax, and listen to the recording(s). All the best practices are simple!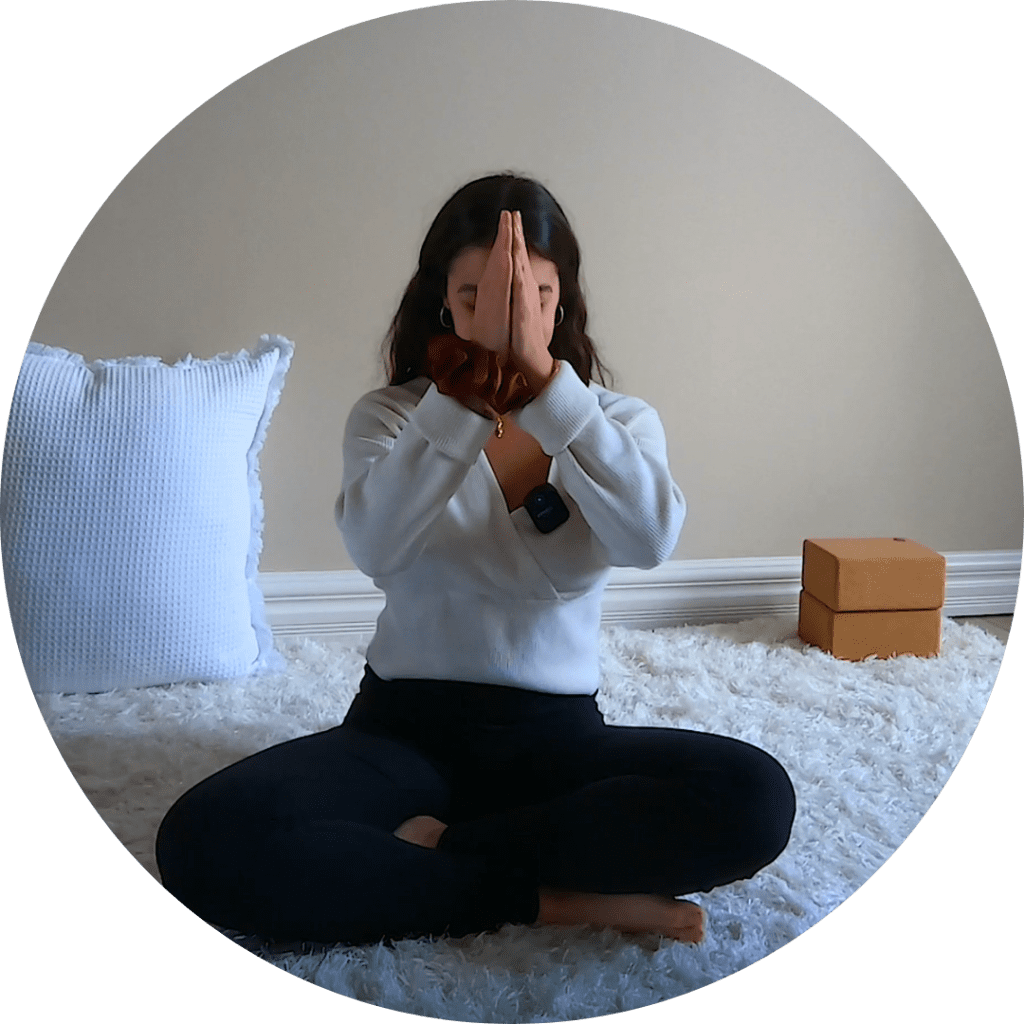 My name is Jaylyn and I'm a Yoga Nidra facilitator specially trained to guide you through the process and help you experience the full benefits of this powerful practice.
We take a Total Yoga Nidra approach here, drawing from several forms and traditions of Yoga Nidra, and the understanding of the practice as an organic and deeply personal one.
Our Yoga Nidra library is full of practices that are in tune with the seasons and connect us with the earth. 
I invite you to join me in exploring this transformational practice!
in our living library:
✳︎ Open yoga nidras for all
✳︎ Yoga nidra to help you fall asleep and sleep deeper
✳︎ Special holiday and seasonal practices, including new + full moon nidras
✳︎ Yoga nidra for women's wellness
✳︎
listen anytime.
What Can 1:1 Yoga Nidra Support You With?
-Improve quality of sleep
-Manage chronic pain
-Improve focus and clarity
-Manage stress and fatigue
-Manage difficult emotions
-Naturally balance hormones
-Move through transitions
-Connect with yourself
-Feel good!
At-Home Yoga Nidra Retreats
⍣ Experience guided meditative rest for deep restoration
⍣ Balance energy levels and regulate your nervous system, naturally
⍣ Feel refreshed, renewed + reconnected
⍣ Restore your rhythmic inner cycles + sleep better
⍣ Dream with the Earth
We all need support and safe spaces to tune in.
Let your Yoga Nidra practice carry you through challenging times, and inspire you to live your best life.
Subscribe to the innerswim YouTube channel!
astrology
August is an exciting month as it begins with a Super Full Moon in Aquarius on the 1st and ends with another in Pisces (A
Read More »